Greek-Style Grilled Corn
Serves 4 appetizer sizes
4-5 ears sweet corn
Sauce
1/3 cup of mayo
1 teaspoon minced garlic
1 teaspoon lemon zest
¼ teaspoon onion powder
1/8 teaspoon nutmeg
¼ cup crumbled feta
2 teaspoons chopped fresh oregano
fresh cracked pepper and salt to taste
Garnish
1/8 cup crumbled feta
½ teaspoon cinnamon
1 teaspoon chopped fresh oregano
1 lemon cut into wedges
Directions
To prepare the corn, pull back the husks and remove all of the silk threads inside. Close them back up tightly and soak in a tub of water for at least 30 minutes. When you are ready to grill, wrap each ear of corn (with the husks on) in tin foil. This helps to keep the corn nice and moist. Put on medium high grill fro 20-30 minutes with the grill covered. Make sure to turn the corn a few times to ensure all side are done. You can tell if they are done by doing a taste test. Just wrap the corn and cut off a kernel and see if it's sweet, tender and done. I like mine to still have a little crunch to them.
While the corn is cooking, you can prepare the mayonnaise sauce. In a medium size bowl add in the Mayonnaise, garlic, lemon zest, onion powder, nutmeg, feta, oregano, salt and pepper. Mix till everything is incorporated. Set aside.
One the corn is done. Cut the kernels off the cob while it is still hot and put into the bowl with the mayonnaise sauce and mix it all together. Be careful not to burn yourself and use a hot pad to hold the corn.
Serve in martini glasses or other cute little glass bowls. Portion the corn mixture into serving glasses and top with the extra feta and oregano. Sprinkle with the cinnamon and serve with a wedge of lemon. It is recommended to squish the lemon in before you eat it as it imparts an extra burst of lemony goodness.
---
Spicy Grilled Fruit Sangria

750ml bottle of a spicy red wine (Syrah, Shiraz, Tempranillo)
4oz orange liqueur
4oz brandy (plus additional for fruit to soak in)
4oz-5oz. spiced simple syrup (recipe below)
2 cups grilled chopped fruit (see below) macerated in additional brandy and/or liqueur
2-4 dashes of hot sauce ( I prefer Cholula hot sauce)
ice
In large pitcher, pour in the wine, orange liquor, brandy, and spiced simple syrup. Add in the grilled fruit, a few dashes of the hot sauce and refrigerate till cold. To serve, pour sangria over ice in wine glasses and enjoy!
Fruit for Grilling

(These are just suggestions, feel free to enjoy any local and/or seasonal fruits that you like)
Lemons, oranges
Mango
Plum
Pear
Apple
Cut your choice of fruit into slices. Put into oiled grill or greased grill pan. Grill the fruit till it has nice grill marks. Take off of grill and chop into bite sized pieces. Put fruit into bowl with some additional brandy. Let sit for at least 30 minutes and up to overnight in the refrigerator. This will let the fruit soak up the brandy.
Spiced Simple Syrup
1 stick cinnamon
2 full pieces star anise
1/2 tsp. cloves
1/2 tsp. black peppercorns
1/4 tsp. red chili flakes
½ tsp. chopped crystallized ginger
½ c honey
½ c water
Put all the ingredients in a small pot and bring to a boil. Turn heat down and simmer for 5 minutes. Remove from heat and cool. Strain, then use as desired.
---
Grilled Pound Cake
with Strawberry and Kiwi and Ginger Cream
Serves 4 for appetizers
FOR POUND CAKE:
1 ¼ c rice flour
¾ c chestnut flour
¼ c tapioca flour
1 ½ tsp xanthan gum
1 ¼ tsp kosher salt
1 tsp baking powder
¾ cup light olive oil
1 ½ cups sugar
1 teaspoon orange juice
1 teaspoon lemon extract,
1 tablespoon lemon zest
2 tsp vanilla extract
3 large eggs
2/3 cup full-fat coconut milk (dairy milk or another non-dairy milk can also be used)
Directions
Preheat oven to 350 degrees Fahrenheit.
Combine flours, xanthan gum, salt, and baking powder in a bowl and set aside.
Pour olive oil into mixing bowl with the paddle attachment and slowly mix in sugar, orange juice, and vanilla extract.
Add the eggs one at a time, making sure to stir well after each addition.
Add the coconut milk. Mix 2 minutes. Gradually add dry ingredients into wet ingredients, mixing well.
Pour batter into two well-greased loaf pans.
Bake for 50 – 55 minutes. Let cool for 10 minutes and remove from pan. Cool on drying rack for 30 minutes.
FOR FRUIT MIXTURE

1 pint strawberries
4 kiwis
1 T lemon zest
½ cup sugar
Chop strawberries and kiwis (peeled) into small bite size pieces and put into a bowl. Add lemon zest and sugar and mix till fully distributed into the fruit. Cover bowl and put into the refrigerator for at least 15 minutes, till the fruit is juicy and the sugar is dissolved.
FOR WHIPPED CREAM:
1 ½ cup heavy cream
¼ cup sugar
½ teaspoon ginger powder
Directions
In a stand mixer, or with a hand mixer in a chilled bowl whisk the heavy cream on medium high till it starts to rise. Slowly add the sugar and ginger powder. Mix on high till soft peaks form. Put into refrigerator till ready to use.
OPTIONAL GARNISH:
3-4 teaspoons chopped crystallized ginger
TO GRILL AND ASSEMBLE:
Fire up the grill. Slice pound cake into 1 inch slices. Make sure the grill grates are clean and well oiled (vegetable oil or any neutral oil is fine). Grill the slices on each side just till a nice grill mark appears, about 1 minute each side. The time will differ depending on the heat of your grill.
Put a slice of grilled pound cake down on the plate. Put on some of the fruit mixture and top with the ginger whipped cream. (Optional) Top it with the crystallized ginger. Serve and enjoy!
---
Grilled Artichokes with Spicy Sweet Remoulade Sauce
Serves 4 for appetizers
Remoulade Sauce
¾ cup homemade or store bought mayonnaise
1 ½ tablespoons sun dried tomato spread/paste
2 teaspoons honey
½ teaspoon salt
2 teaspoons hot sauce (I like to use Cholula hot sauce)
¼ teaspoon black pepper
1/8 teaspoon cayenne pepper
¼ teaspoon smoked paprika
¾ teaspoon chopped garlic, about 2 cloves
Directions
Mix all of the ingredients in a bowl and serve as a dip with the grilled artichokes.
Leftover sauce will keep, refrigerated, for up to 3 or 4 days.
Grilled Artichokes

4 fresh artichokes
1 lemon
Salt and fresh cracked pepper to taste.

(Optional) 1 bay leaf, few whole peppercorns, 1-2 slices of lemon or lemon rind for the steaming water
You'll need a steamer pot or even a regular pot that you can put a steamer basket into. Put water in the pot to just under the steamer basket or just under halfway in a steamer pot. . To steam the artichokes, put in water bay leaf, few peppercorns or lemon rind or lemon slice. Cut off the pointy tops of the whole artichokes and put in the steamer. Steam for 20-25 minutes, or until knife goes in easily near the base.
Take off lid and rest for 5 minutes (cooler to work with). Clean off any extra or bad leaves on the outside. Cut into quarters (4 pieces for each artichoke). Scoop out choke( the bulky thread-like center). Brush both sides with extra virgin olive oil, little salt and pepper on open cut side. Squeeze the juice of 1 lemon over the artichokes.
Fire up grill to a high heat/flame. Put the artichoke quarters on super hot grill, cut side down. Grill for 3-5 minutes on each side, depending on how dark the grill marks you want. Take off of the grill. Arrange them on a plate and serve with the spicy sweet remoulade sauce to dip into. Savor and enjoy.
---

Grilled Pizza with Pesto and Grilled Vegetables

This can be made with either the regular dough or the gluten-free dough
Regular Pizza dough
Makes 2 10-inch pizzas

2 ½ cups all purpose flour
1 ½ teaspoons sugar or honey
1 ¾ teaspoons kosher salt)
½ teaspoon instant yeast
1 Tablespoon olive oil
3/4 to 1 cup room-temperature water
Extra flour for dusting
In a stand mixer with the dough hook attachment on, add all of the ingredients and mix till incorporated. Let it knead for 5 minutes. Put the dough into a greased bowl and cover with plastic wrap and let rise till it doubles, about an hour.
Gluten-free pizza dough
Makes 2 10-inch pizzas
2 TB dry yeast
2 cups brown rice flour
1 cup tapioca flour
½ cup white rice flour
1 teaspoon kosher salt
2 teaspoon unflavored gelatin powder (Knox)
2 teaspoon Italian herb seasoning
1 1/3  cup warm milk (110 degrees F.) or non-dairy liquid
1 teaspoon sugar
2 teaspoons olive oil
2 teaspoons cider vinegar
Extra white rice flour for dusting
In a medium bowl mix the yeast, flours, salt, gelatin powder and Italian seasoning together till mixed. In stand mixer with the paddle attachment on, add the milk, sugar, olive oil, and cider vinegar on medium. With the mixer still going slowly add in the dry mixture and let mix till fully incorporated. Put the dough into a greased bowl and cover. Let it set for 45 till it slightly rises (it will not rise nearly as much as the regular dough does).
Pizza toppings
1 red pepper thinly sliced
1 zucchini sliced into rounds
1 summer squash sliced into rounds
3 large portabella mushroom caps sliced into long strips
1 cup grated fontina or fontinella
1 cup grated mozzarella
Olive oil Salt and pepper
(Optional) 3 tablespoons thinly chopped fresh basil
Toss the sliced vegetables with a little olive oil, salt and pepper. Over medium high heat, grill the vegetables till nice grill marks appear and they are tender.
Pesto recipe
Makes 1 cup
2 cups fresh basil leaves, packed
1/2 cup freshly grated Parmesan-Reggiano or Romano cheese
1/2 cup extra virgin olive oil
1/3 cup pine nuts or walnuts (toasted)
3 medium sized garlic cloves, minced
Salt and freshly ground black pepper to taste
1. Toast the nuts till light golden brown. Combine the basil in with the pine nuts, pulse a few times in a food processor. (If you are using walnuts instead of pine nuts and they are not already chopped, pulse them a few times first, before adding the basil.) Add the garlic, pulse a few times more.
2. Slowly add the olive oil in a constant stream while the food processor is on. Stop to scrape down the sides of the food processor with a rubber spatula. Add the grated cheese and pulse again until blended. Add a pinch of salt and freshly ground black pepper to taste.
Assembling and grilling the pizza
Get the grill going to a low to medium low heat (too much will burn and cook the pizza too fast). Make sure the grill is well oiled up. Have the grilled vegetables, pesto and cheeses ready to go.
Spilt dough into 2 portions. Using rolling pin (or empty wine bottle in a pinch) and extra flour for dusting, roll out the dough balls till about ½ inch thickness all around (this will make two pizzas).  Carefully put dough onto a well floured back of a cookie sheet. This will work like a pizza peel. Quickly and carefully side the dough straight out onto the grill. Do this for both. Keep the heat fairly low, so the pizza won't burn too quickly. Put lid down. Let the dough cook till nice grill marks appear, anywhere from 3-7 minutes depending on your grill. Once the one side is ready, flip the dough over and put back on the cookie sheet. Quickly brush the edges with olive oil. Spread the pesto over the cooked dough side. Add the grilled vegetables and top with the cheeses. Slide the pizza back onto the grill and cover. Grill for 3-7 minutes on the other side till nice grill marks appear.
Take off the grill and let the pizza rest for a moment. Slice and serve.
(Optional) Top finished pizza 3 tablespoons of fresh basil thinly chopped
---
Sexy Sidecar

Ingredients
2 ½ oz. Cognac or brandy
1 ½ oz. Cointreau
½ oz. fresh lemon juice
½ oz. fresh orange juice
Ice

For garnish
Superfine sugar (or regular sugar pulsed in food processor)
Slice of orange and lemon

Directions
Put the ice, cognac (or brandy), Cointreau and juices into a martini shaker (or into a martini stirrer) and shake till combined and chilled.

For rim/garnish super fine sugar and orange and lemon slices. Serve in a martini glass or classic champagne saucer glass.

Spiced Pecans

Ingredients
4 tablespoons butter
1/3 cup dark-brown sugar
1/3 cup white granulated sugar
1 ½ teaspoon kosher salt
1/8 teaspoon ground chipotle powder (or cayenne if you can't find this)
1/8 teaspoon smoked paprika
1/8 teaspoon ground cardamom
1 teaspoon ground cinnamon
1 pound pecan halves

Directions
Preheat the oven to 350°. In a small bowl, combine the spices and sugars. Spread the pecans on a large, rimmed baking sheet and toast for 10 minutes, until fragrant.

Transfer the pecans to a large bowl and toss with the butter. Add the spices and toss to coat. Return the pecans to the baking sheet and bake in over for 3 to 4 minutes longer, until fragrant. Let cool.
---
Triple Threat Brownies

INGREDIENTS
1.5 sticks of butter unsalted
4 ounces of unsweetened chocolate
2 cups sugar
2 eggs
1 teaspoon vanilla
1 tablespoon coffee liquor
2 tablespoon instant coffee
1 cup all-purpose flour
dash salt (don't if you used salted butter)
6oz choc chips
OPTIONAL
24-30 chocolate covered espresso beans (for on top of brownies)
Caramel sauce- see below
Fresh raspberries- for garnish

DIRECTIONS
-Preheat oven 350 degrees
-Melt butter and unsweetened chocolate on medium heat in saucepan.
-Melt slowly, stirring periodically until completely melted.
-Once melted, turn off and remove from heat.
-Stir in sugar.
-In separate bowl whisk eggs and then stir into chocolate mixture.
-Stir in the vanilla, coffee liqueur, instant coffee, salt and flour.
Slowly mix in chocolate chips.
Spray a mini-muffin sheet
add one scoop of dough
---
Blackened Catfish with Mango Salsa
Mango Salsa
2 mangos cut up in small dice (about 1 ½ cup)
½ red pepper, cut up into small dice (about ½ cup)
1 jalapeño, finely chopped
3 tablespoons chopped fresh cilantro
2 tablespoons fresh squeezed lime juice (about 1 lime)
2 tablespoons orange juice
1 tablespoon brown sugar
½ teaspoon salt
Optional -Sriracha sauce, ½ to 1 t depending on taste (this will add a bit more heat)
•Mix all the ingredients together in a bowl and set aside.
Blackening seasoning
1 tablespoon smoked paprika
½ teaspoon garlic powder
1 teaspoon onion powder
½ teaspoon cayenne
¼ teaspoon ground chipotle
½ teaspoon oregano
½ teaspoon thyme
1 teaspoon medium hot chili powder
1 teaspoon ground black pepper
1 teaspoon salt
•Mix spices together in a bowl and set aside.
Catfish
4 large catfish fillets (USA farm raised)
Olive oil for pan.
•Put dash of oil into frying pan or on cast iron griddle pan.
•Heat it up, medium high heat.
•Sprinkle catfish fillets with seasoning on both sides (more or less depending how
much spiciness you want)
•Put in pan or onto griddle and cook for 2-3 minutes each side.
•Cook till the catfish is firm to touch. Take off the heat and let rest for a moment.
•Top with mango salsa and serve.
---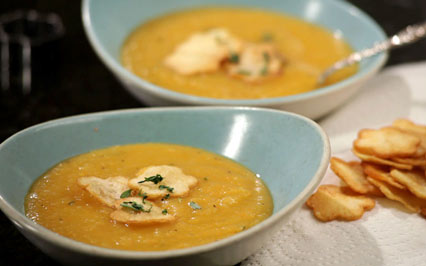 Carrot Potato Soup (Vegetarian or Vegan)
Ingredients
1 Tablespoon butter ( to make it vegan exclude the butter)
1 Tablespoon olive oil (to make it vegan double the olive oil)
1 whole onion medium dice, about 1 ½ cup
4 medium potatoes, peeled and thinly sliced, about 4 cups
7 medium carrots grated, about 5 cups
6 cups of vegetable broth, or to just cover vegetables
1 bay leaf
2 Tablespoons chopped fresh tarragon salt and pepper to taste
Optional
1 potato, peeled
Oil for frying (vegetable or any other neutral oil is fine)
Salt
Directions
(to make this soup vegan, you can cut out the butter and double the amount of the olive oil)
Simmer for 15 minutes over medium heat, until tender
Put immersion blender in pot and blend until smooth and creamy (if you don't have an immersion blender, you can put the soup into a blender and blend till creamy and then put back into the pot).
Sprinkle in 1 tablespoon chopped tarragon and use the other tablespoon for garnish.

Optional
Garnish with the homemade potato crisps.
Optional garnish
In a medium pot place oil about halfway up and heat over medium heat, till when a test piece of potato is thrown in it starts to sizzle. Slice very thin circles of the potato about 1/8 thick, or as thin as you can get. Use a cookie cutter to cut out shapes or slice thinly into smaller pieces and fry until crisp and golden brown. These are basically cute mini potato chips. Put onto paper towel to absorb oil and season with salt.
---